Specifications (Apple iPhone 13 Pro 128 GB, Sierra Blue)
Custom OLED technology
pushes the display's incredible resolution and colour right to the edge
Up to 1,200 nits peak brightness for your HDR photos and videos
Even more display area thanks to a smaller TrueDepth camera system
Incredible colour fidelity makes all your content look true to life
Striking contrast and resolution creates true blacks, bright whites, sharp detail and crisp text
See why your battery will love ProMotion
ProMotion makes it feel like you're reaching right through the screen and touching the code.
Running a display that refreshes 120 times every single second requires a ton of power. But you don't really need all that speed all the time.
One way to be more efficient is to set standard frame rates for different types of content. Say, 10 fps for a book and 120 fps for a game. The problem with this approach is that frame rates are always changing. If the game drops to 30 fps for a menu screen while the display is set at 120 fps, you end up using precious battery life without seeing any benefit from the higher frame rate.
For us, power is far too important to waste on empty frames. So we set out to design a more intelligent solution. One that can adapt to ever-changing refresh rates.
With ProMotion, there are no settings. Refresh rates are tied to whatever's happening on the screen. If your game drops to 30 fps, ProMotion dips to 30 fps too. If you're watching a video that was filmed at 24 fps, it plays at 24 fps. All of this saves power.
We also considered the way your finger speeds up and slows down as you scroll, swipe or pinch. The speed of your finger now drives the speed of each gesture. iOS 15 is full of moments where 120Hz makes the interface feel glued to your finger. It's just so fast. But even then, ProMotion only uses 120Hz at the precise moment you'll feel the impact.
It would have been much easier to put a 120Hz iPhone in your hand without worrying about battery life. But that's not the Apple way. We wanted to deliver fast frame rates when you need them, and preserve battery life when you don't.
Pure. Pro. Power.
A15 Bionic is the world's fastest smartphone chip.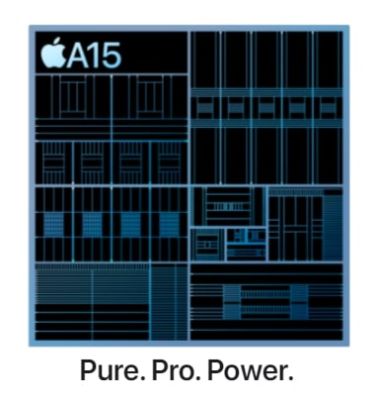 * This Apple iPhone 13 Pro Smartphone image is for illustration purpose only. Actual image may vary.
All-new 5-core GPU
delivers up to 50% faster graphics performance than any other smartphone chip
New CPU performance and efficiency cores
power through complex tasks and preserve battery life
Super-fast Neural Engine
performs up to 15.8 trillion operations per second, enabling Cinematic mode, Smart HDR 4 and more
Advanced ISP
takes noise reduction and tone mapping to the next level
Secure Enclave
protects personal information like your Face ID data, contacts and more
On-device processing
keeps things like your Siri requests and interactions with Live Text private
See how A15 Bionic is powered by collaboration.
Year after year, iPhone silicon pushes our idea of what's possible with smartphones. A big reason why is that we build long-term product road maps and bring our teams together in ways no other company can.
Deep integration between our teams allows us to deliver features you can't find on any other smartphone.
That's how we deliver features like ProMotion, which have to be planned years in advance. Our chip team fully understood the needs of the display hardware, display software and operating system teams and took them into account for A15 Bionic.
For example, we overhauled the display engine to support variable frame rates, then designed the system so ProMotion could capture the incredible graphics performance and efficiency potential of the new 5-core GPU.
In turn, the display software and iOS teams decided where all that speed would make the biggest impact, and where they could optimise refresh rates to use a lot less power.
What's truly unique about Apple is that we don't just start with a super-fast chip and build features around it. Instead, we start with an idea about a great experience we'd like you to have, and then we all work together to bring it to life.
iPhone 13 Pro Max has the best battery life ever on iPhone
Up to 2.5 more hours of battery life on iPhone 13 Pro Max
Up to 1.5 more hours of battery life on iPhone 13 Pro
Add a MagSafe charger for faster wireless charging.
In touch
In the moment.
iOS 15 lets you keep the conversation going while sharing movies, music or whatever's on your screen right in FaceTime. Stay in the zone by filtering out any notifications that aren't relevant to the task at hand. And interact with text in images to quickly send email, make calls, get directions and more.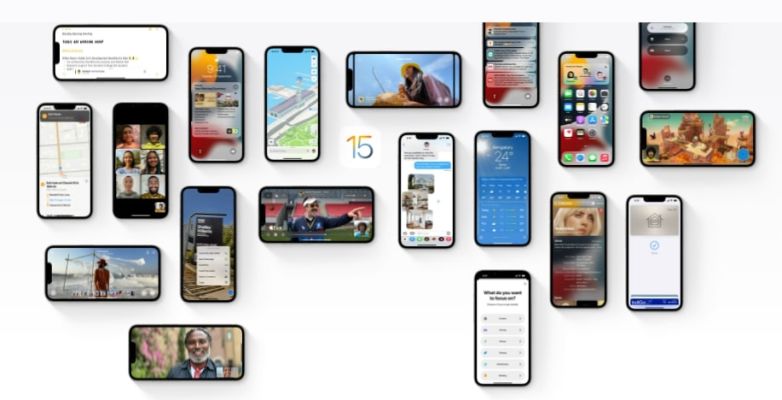 * This Apple iPhone 13 Pro Smartphone image is for illustration purpose only. Actual image may vary.
Privacy
iPhone helps put you in control of your personal information. For example, Privacy Nutrition Labels help you see how apps use your data. Apps need your permission to track your activity across other companies' apps or websites. And that's just for starters.
Good design is good for the planet
Our stores, offices, data centres and operations are already carbon neutral. By 2030 our products and your carbon footprint from using them will be too. This year we eliminated the plastic wrap around the iPhone 13 and iPhone 13 Pro boxes, saving 600 metric tons of plastic. And our established final assembly sites now send zero waste to landfills.
A phoneful of fun
Stream songs, albums and curated playlists. Catch the shows everyone is raving about. Discover exciting new games. Apple services put so much at your fingertips, and Apple One bundles them all into a simple subscription.